Regular price
Sale price
$78.00 USD
Unit price
per
Sale
Sold out
A luxurious blend of botanical wonders crafted to rejuvenate and nourish your skin. Inspired by the pristine landscapes of the Rocky Mountains, this serum is a harmonious fusion of nature's finest ingredients, carefully selected to enhance your natural beauty.
Infused with the revitalizing power of wildcrafted herbs and organic oils, our Rocky Mountain Recovery Face Serum delivers a potent dose of hydration and restoration. Each drop is meticulously formulated to replenish your skin's vitality, leaving it with a radiant glow and a youthful, dewy complexion.
Immerse yourself in the transformative experience as this lightweight serum absorbs effortlessly, working in harmony with your skin's natural processes. Packed with antioxidants, vitamins, and essential fatty acids, it deeply moisturizes, nourishes, and helps to minimize the appearance of fine lines and wrinkles.
Our expertly curated blend includes rosehip seed oil, cherished for its ability to fade scars and even out skin tone, while calendula promotes a calm, balanced complexion. Infusions of lavender and chamomile provide gentle soothing properties, reducing inflammation and leaving your skin feeling calm and refreshed.
Experience the power of nature's botanical treasures as you indulge in the enchanting aroma of the Rocky Mountains with each application. Our serum is meticulously handcrafted in small batches, ensuring the utmost quality and attention to detail.
Embrace the beauty of nature with our Rocky Mountain Recovery Face Serum, a harmonious blend that revitalizes your skin while creating a moment of self-care and tranquility in your skincare routine. Elevate your skincare regimen to new heights and unveil the radiance that lies within.
This serum is perfect for all skin types and is helpful for protecting and repairing skin that is exposed to sun and wind. Unlock the secrets of the Rocky Mountains and embrace a renewed, luminous complexion. Pamper yourself with the Golden Poppy Herbs Rocky Mountain Recovery Face Serum today and embark on a transformative journey towards skin that radiates beauty and vitality.
Experience nature's gift to your skin. Shop now and discover the true essence of herbal skincare with Golden Poppy Herbs.
Organic Ingredients:
Jojoba oil infused with Calendula & Helichrysum flowers
Rosehip seed oil
Pomegranate Seed oil
Meadowfoam Seed oil
Borage oil
Vitamin E & Rosemary Extract
Essential Oils of Frankincense, Rose, Clary Sage, Lavender, Rosemary, Sandalwood & Helichrysum
View full details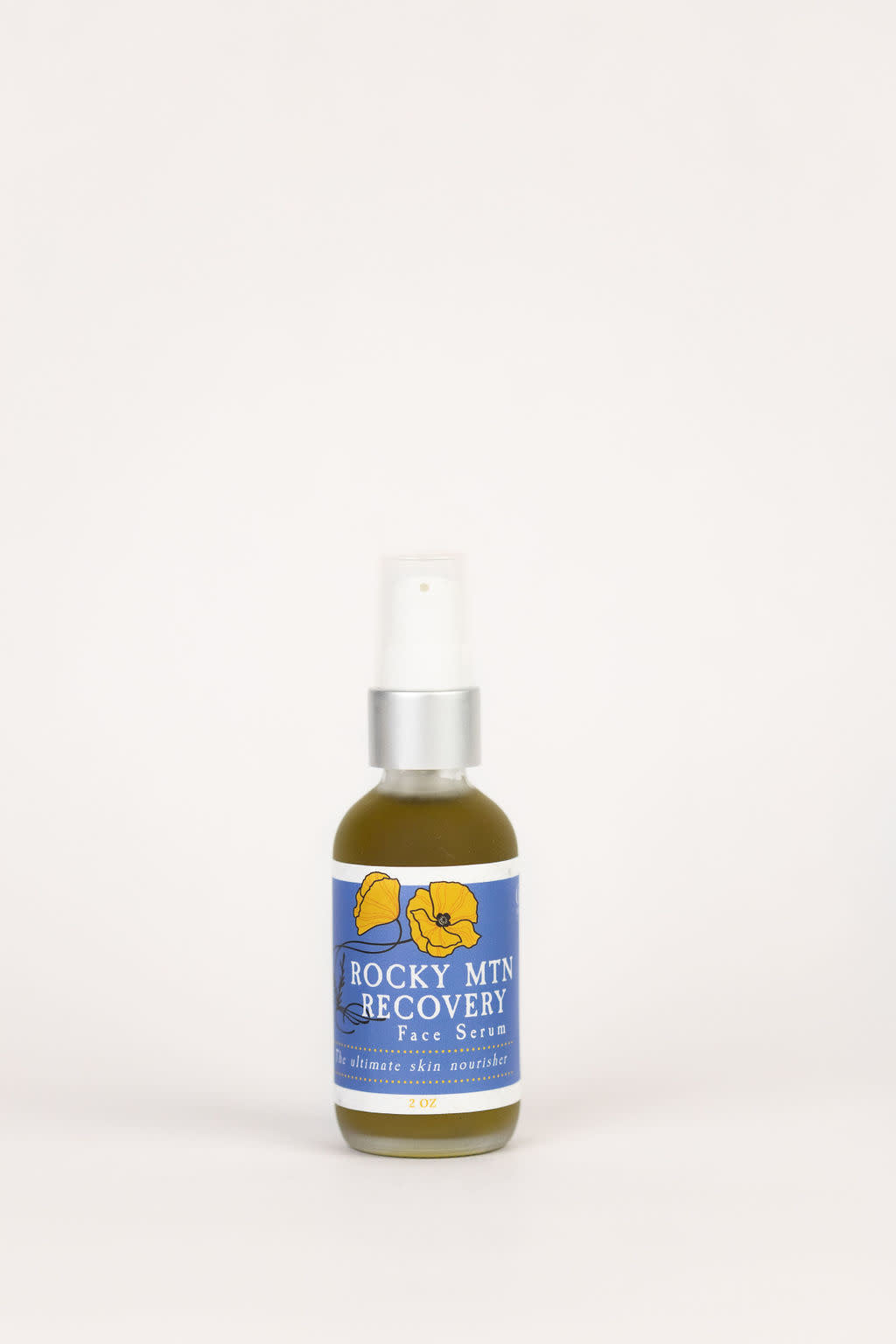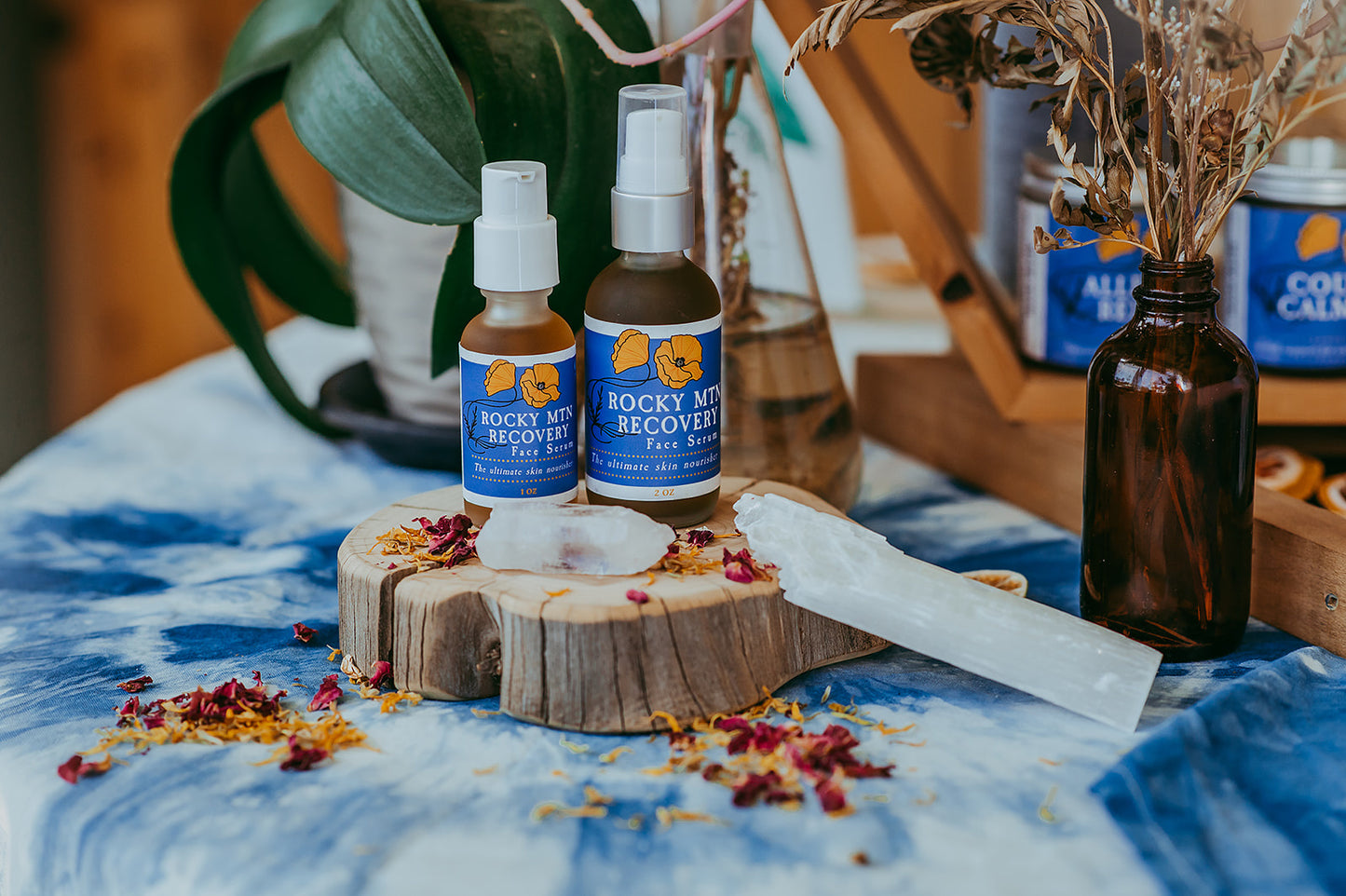 Best s$&t ever!!!
Y'all look. I cannot make this up. We moved from Wellington to Montana may 2021.
I ran out of my mountain repair. Bought a ton of various products, drug store and expensive. Some even made me have little random white heads. I'm 51 and never had an acne situation.
I drove down the hill (3 miles) to our mailbox this morning. Got my glorious mountain repair serum. Opened it and put it on in the truck. Went to town for errands and back, like 2 hours.
Got home and my face was HEALED. Not just moisturized, healed. All the little blemishes and discoloration, gone!!!
I should have never bothered with the other crap.
All the fine lines, discoloration, dry spots, all of the things that come with being in the 40+ club, particularly in a dry climate, gone. Of course, there are a few stray fine lines, but I've earned those and wear them proud.
Keep doing what y'all do